Fall 2019 Commencement Speaker Amir Samandi (B.A. '02)--December 14, 2019
From Loretta Sanchez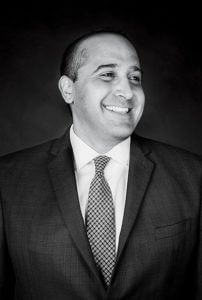 Fall 2019 Commencement Speaker

Amir Samandi (B.A. '02)
Partnerships Director for CAST Tech High School with Tech Bloc
Founder and Executive Director of Summer of Service
Amir Samandi is the Partnerships Director for CAST Tech High School with Tech Bloc and the Founder and Executive Director of Summer of Service (SOS). Amir has taught AP Human Geography, AP Government, AP Economics, 6th Grade World Cultures and several other courses over his nearly six years of teaching with the STEM Academy in North East ISD. He was awarded the PTSA Lifetime Member Award in 2017, and was a Finalist for the 2017 HEB Excellence in Education Award and has been nominated or awarded numerous other awards. Amir is also an Adjunct Professor with St. Mary's University, where he has taught undergraduate, graduate and Upward Bound courses.
Amir was recently named one of San Antonio's "40 under 40" by the San Antonio Business Journal for his work on extended learning opportunities with Summer of Service (SOS). SOS is a 501c3 nonprofit dedicated to providing San Antonio youth with experiential learning opportunities outside the classroom through community service and travel abroad. Under his leadership, SOS has taken more than 500 travelers abroad to over 15 countries with more than 15,000 hours of community service to the San Antonio community and counting! Amir was appointed to the State of Texas' Expanded Learning Opportunities Council, which makes recommendations to the Texas Legislature on out of school time programs.
Amir is also a former Foreign Affairs Analyst with the U.S. Dept. of State and a national/cybersecurity contractor with the U.S. Dept. of Defense. He was awarded a Meritorious Honor Award for his support to the Bureau of Intelligence and Research during Operation Iraqi Freedom. He earned his Bachelor of Arts degree in International relations from St. Mary's University and his Master of Arts degree in International Affairs from The George Washington University.
Amir is married and has three sons and the family enjoys learning, serving and exploring the world together.
Tags