Spring 2018 St. Mary's University Commencement --- May 12, 2018
From [email protected]
Marianist provincial to address St. Mary's spring grads
May 7, 2018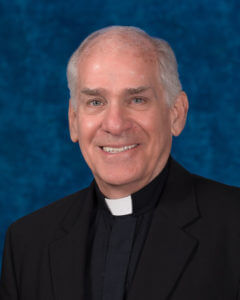 The Rev. Martin Solma, S.M., Provincial of the Marianist Province of the United States and St. Mary's University Chancellor, will serve as keynote speaker at the University's 166th annual Spring Commencement on Saturday, May 12.
Solma also will receive a Doctor of Letters, honoris causa, for his strong faith and ethical leadership to the University and the Society of Mary. His support of the Defining Moment campaign resulted in the recent creation of the Marianist Chair in Catholic Education Leadership, with a $1.5 million gift from the Society of Mary.
St. Mary's will celebrate the accomplishments of 406 new graduates, including 347 receiving bachelor's degrees, 58 receiving master's degrees and one student receiving a doctoral degree.
Commencement will begin at 1:30 p.m. at Bill Greehey Arena, inside the Alumni Athletics & Convocation Center on the St. Mary's campus. Baccalaureate Mass will be held Friday, May 11, at 5:30 p.m., also at Greehey Arena. Media are welcome at both events.
Two students will graduate with a 4.0 GPA, 25 students will graduate summa cum laude; 22 will graduate magna cum laude; 64 will graduate cum laude; and 17 will receive distinguished graduate honors.
The ceremony will be streamed live online for family and friends who are unable to attend in person.
More about the Rev. Martin Solma, S.M.
The Rev. Martin A. Solma, S.M., has served as provincial of the Marianist Province of the United States since July 1, 2010. In that role, he serves as Chancellor of St. Mary's University and Chancellor of Chaminade University. He is a member of the Catholic and Marianist Identity Committee and served on the Presidential Search Committee for St. Mary's.
Solma was born in Cleveland, where he met the Marianists while attending St. Joseph High School. He entered the Marianist novitiate at Marcy, N.Y., professing first vows in 1967 at Marcy and perpetual vows in 1973 at Mount Saint John in Dayton. He was ordained to the priesthood in 1978 in Dayton.
He began his career teaching religious education and English at Msgr. John Hackett High School in Kalamazoo, Mich. (1971-1975), and Purcell Marian High School in Cincinnati (1979-1982). In 1982, Solma began more than 25 years of ministry in Eastern Africa serving as assistant novice director at the Marianist novitiate in Ekpoma, Nigeria. He became director of the Marianist novitiate in Nairobi, Kenya, in 1985.
Solma was appointed regional superior for Eastern Africa in 1992, a position he held until 1998. He served five years (1999-2004) as director of the Marianist scholasticate in Nairobi before being appointed to a three-year term as district superior of Eastern Africa in 2004. Solma served as manager of Our Lady of Nazareth Primary School (OLN) in Nairobi, where he was involved in the school's development for more than 13 years. OLN is a school for 1,900 children from the Mukuru kwa Njenga slums in Nairobi.
Solma received a bachelor's degree in philosophy and English in 1971 from the University of Dayton and now serves as vice chair for the University of Dayton board of trustees. He also earned a master's degree in religious education in 1975 from Boston College. In 1979, Solma received a Master of Divinity degree from the University of St. Michael's College in Toronto.
Tags